Who They Are
HK Christians (hkchristians.net) is a dating network for Christians in Hong Kong. It has been running since 2006.
Their business model is providing a platform for single christians to meet each other. They do so through an online dating platform, along with some in-person events every few months, and with revenue being membership subscriptions and event attendance fee.
They were doing pretty well with the events, drawing 50-80 people for smaller events, and 100+ people for their bigger events.
Their online web app takes subscription fee, but has had very few subscriptions over the years.
What I did for HK Christians
I joined HK Christians as one of the major shareholders, and started work by building them a new web app, along with iphone/android mobile apps. (which is service I do not offer for consulting clients)
After that, I began working on marketing, doing mainly SEO work, installed analytics to keep track of results and ROI; driving traffic to the website, aiming to increase both membership subscriptions income and event income.
The Results
Given a very small niche market, and limited budget / audience, the results were better than I had hoped.
Overall Traffic
First, the overall traffic increased from ~800-900 visits per week, up to around ~1400-1500 visits per week, around 50-60% increase in overall traffic.

Search Traffic
Before starting work, there were almost little to no traffic coming from google organic search. After the SEO audit and optimization work, there were 500+ traffic coming just from google search.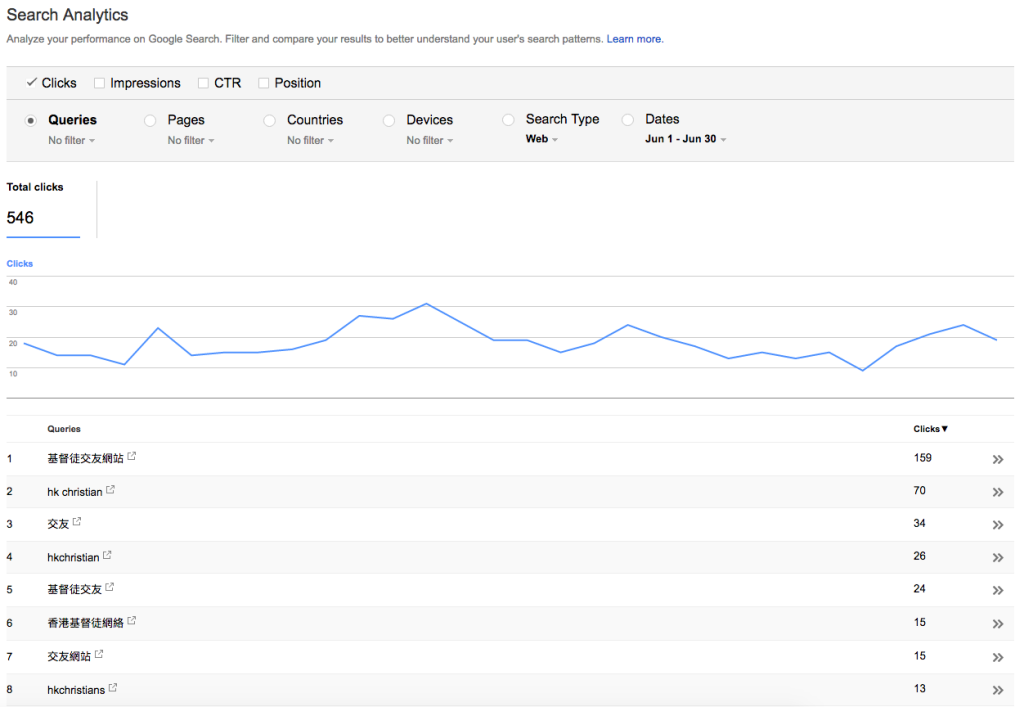 We ranked #1 for some targeted search terms (given it was a very small niche market, it wasn't too hard), as of July 2016.
(The term is 'christians dating' or 'christians make friend', in case you don't read chinese)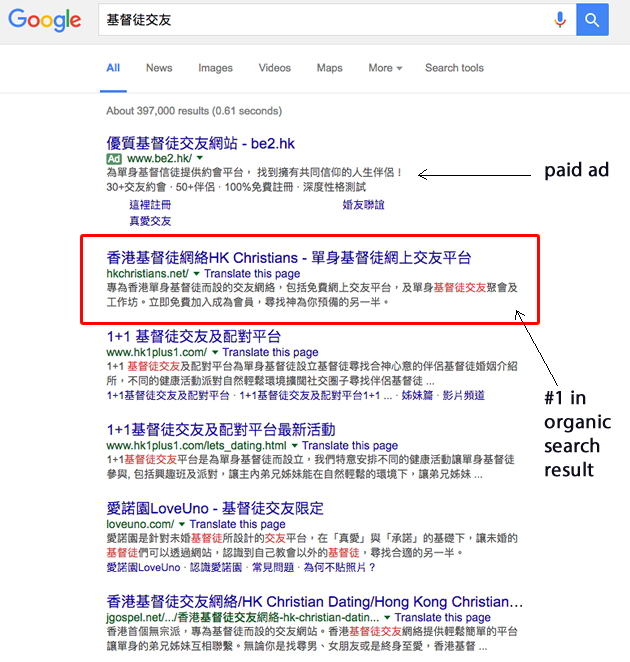 Revenue increase from google search
Of course, none of the above means anything, if there is no $$$$$ coming in from searches.
There was HK$860 coming in from google during the month of May. In June, that increased to HK$1,800. A 209% increase in revenue from google!
** Remarks on this figure: this is a number taken from revenue tracking software 'mixpanel', which can help me track revenue and attribute it back to traffic sources. This figure is captured in July, which means the real lifetime values of google traffic in May and June will be higher, but likely the percentage won't be too far off.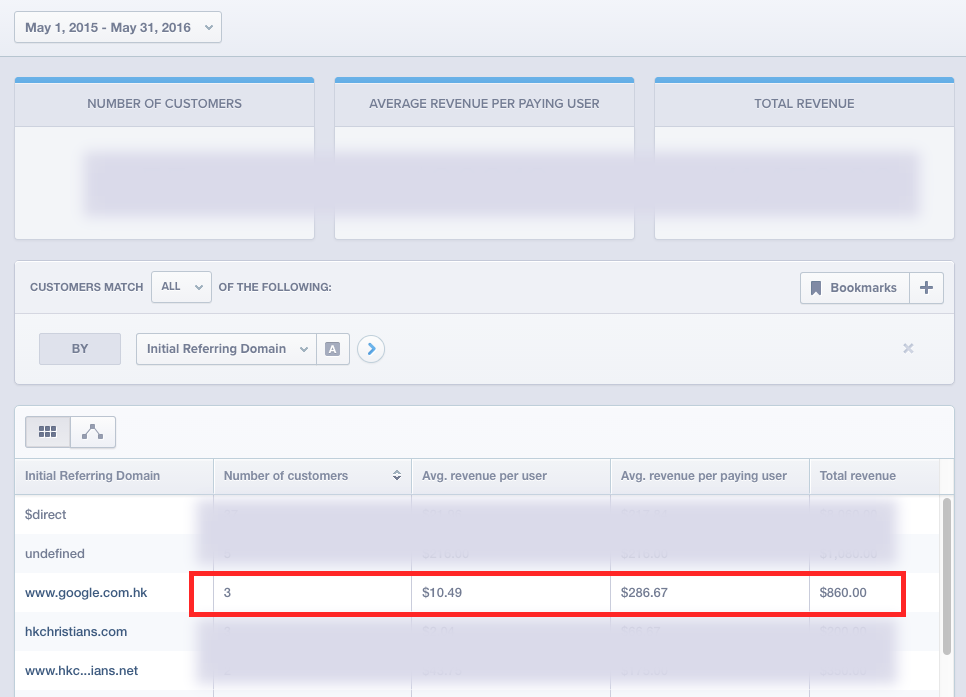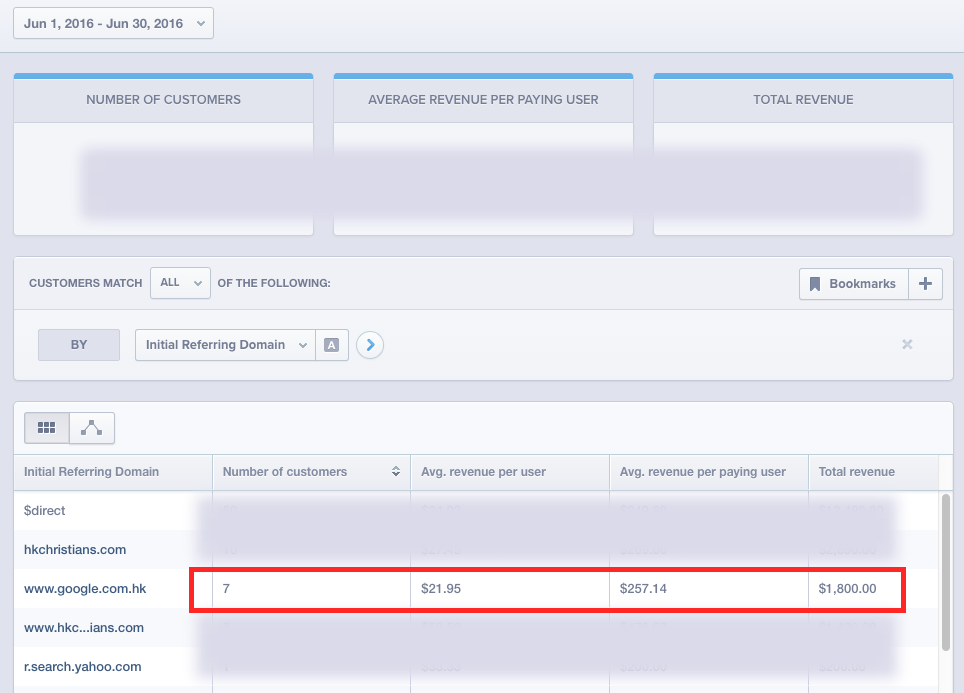 Some failed effort
In fact 'failed' is not quite the right word. I tried some other marketing channel and they did not yield positive ROI, which in itself, is an improvement, in knowing what doesn't work.
Anyways, below are couple things that were tried and discarded (the website we put banner on remaining anonymous so I don't get on their bad side):
banner ads on website A: HK$1,440 per month. I'd hope to see at least 15 signups to justify. Turned out I got 12 clicks and 0 signup in a week. Cut immediately and was able to save some money.
banner ads on website B: HK$500 per week. Expect to see 5 signups to justify. Got 42 clicks, but only 3 signups. Might be able to do testing and tweak the banner to improve, but not really worth the effort at this point, so discarded and did not continue. $0 return on the 3 signups as of 10th July, could change if those 3 signups end up paying in future, but not likely to justify.
Summary:
Within about a month and half, I was able to see these results from my marketing work for HK Christians:
50% increase overall traffic
500 visitors from Google organic search
209% increase in revenue generated from search
very clear tracking and analytics system setup, to generate the accurate ROI figures above
ability for HKC to continue trying other marketing effort and determine accurate ROI
Any questions or thoughts about this case? Feel free to leave a comment or contact me.